(For Non-Muslim Use Only)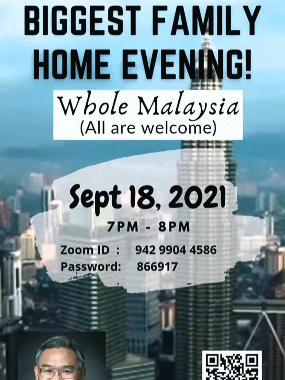 The Brigham Young University Management Society (BYU MS) Malaysia Chapter hosted the first ever largest virtual Family Home Evening titled "JEOPARTY" for The Church of Jesus Christ of Latter-day Saints in Malaysia. Held on Monday, 18th September 2021, the event attracted over 200 saints from Sabah in East Malaysia to Penang in West Malaysia. 
The evening begun with a pictorial video montage of Malaysian members that appropriately set the tone for the occasion. It was followed by a message from President Leonard Woo, Mission President for the Singapore Mission of the Church; after which was the virtual trivia game "JEOPARTY."
President Woo, commended on the Society's objectives to promote moral and ethical leadership, and advocate values that would be significant to families, communities and for the Church in Malaysia. He also expressed the warmth he felt radiating from Malaysian members as he viewed their virtual presence in supporting the event.
Approaching the audience with a question President Woo asked, "How do we define success in life?"
He stated, "It is not what you know, own, or have done to receive worldly success but rather what you will become. That is, to become what God wants us to become having a character of godliness as described in the Book of Mormon scripture Moroni 7:45. Begin while you are young to nurture Christlike attributes in everything you do in your life so as to refine your character towards godliness."
President Woo concluded his message encouraging the audience to serve, to do right and to do good.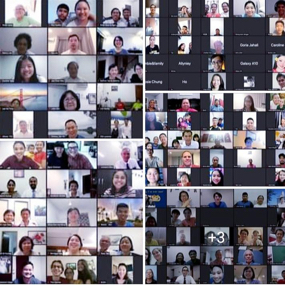 "JEOPARTY" was organized and designed by Darry Wong and his team Daryl Wong Snelson and Peggy Wong. It took a little over a month to create this virtual trivia game for a large group of players. In the beginning, Darry knew it would be an ambitious idea. Nevertheless, he and this team pursued with a goal in mind to serve the Church members in Malaysia, to uplift and unify all.
Being a trivia game, it had unanticipated questions that struck excitement and curiosity, some quite mind-boggling. The questions were divided into topics: Book of Mormon, food, Malaysia, country, animal and Apostles. For each topic, were five levels of questions beginning at RM200 the easiest and rising to the challenging RM1000 ones. Participants were divided into groups and each group would take turns to choose a topic and the value of their choice. There was much excitement in the air, surprise responses and reactions, laughter and cheer. Every group was geared for the highest points as they were dauntless in attempting tricky questions.
During an interview with Darry Wong, he commented, "I was very pleased with the support received from Church members across Malaysia. Their support and participation truly made the family home evening a successful, cheerful, and the largest virtual event."
Quoting a scripture from the New Testament Ephesians 2:19, he further added, "The spirit of a family home evening brings people together."
 
Darry graduated from BYU-Hawaii in year 2020. He studied business management and majored in supply chain management. In 2021, he joined BYU MS Malaysia and was assigned to lead the marketing and advertising for the Chapter's events. He served a mission in Hong Kong and works for a Hong Kong based e-commerce business in Selangor, Malaysia.
BYU MS Malaysia is currently led by Kelvin Tan, a computer science and information technology graduate from Hawaii, class of 2017.
In an interview with Kelvin, he stated that fresh graduates and young professionals can utilize the Society's platform to network and to share expertise. It is a pathway to boost self-confidence, acquire leadership skills, and support self-development. Furthermore, those considering to study at Church colleges can seek preparatory information from the Society's alumni.
"The Society's goal is to bring together alumni, fresh graduates and young professionals who studied at Church educational institutions to grow together as a new generation of ethical leaders in local communities, in families and in the Church," said Kelvin.
Kelvin resides in Selangor, West Malaysia with his wife Beam Tan and their two children. He served in the Singapore Mission from 2012 to 2014, and is a software engineer by profession.
BYU Management Society began in Malaysia in 2019 through the endorsement of the BYU Management Society Asia-Pacific Area. Today, the Chapter in Malaysia has 186 members and it welcomes Church members in Malaysia to share knowledge in and experience from their professional practice. The Society can be located on Facebook and membership is available to all Church members including the public. For the year 2021, five events were held to benefit its members and invited guests.
The Malaysia Chapter also partners with the Small Hill Foundation, an establishment that provides accessibility to affordable and quality higher education for the people of Southeast Asia. The foundation was formed by a group of return missionaries that had served in this region whose wish is to create a positive impact in the lives of South East Asians.