(For Non-Muslim Use Only)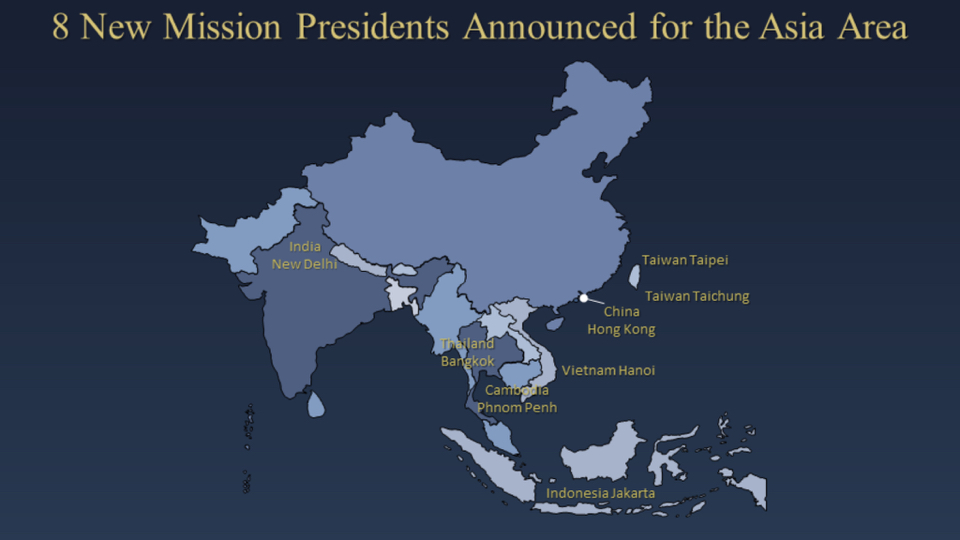 The First Presidency of The Church of Jesus Christ of Latter-day Saints has called 105 new mission presidents and their companions to begin service in July; eight of them have been called to serve in the Asia Area.
| Mission | President | Companion |
| --- | --- | --- |
| Cambodia Phnom Penh | Veasna Neang | Chanthy Thol |
| China Hong Kong | Hok On Chan | Kwan Ying Chan |
| India New Delhi | Robert K. William | Anne William |
| Indonesia Jakarta | Edwin Tandiman | Christine D. Tandiman |
| Taiwan Taichung | Karl J. Fields | Melanie A. Fields |
| Taiwan Taipei | Steve Shih Ning Yang | Helene Mei Jyan Yang |
| Thailand Bangkok | Kelly T. Burgener | Elizabeth W. Burgener |
| Vietnam Hanoi | Larry K. Hughes | Janece Hughes |
Among these eight couples, four are from the United States, whereas the other four are Church leaders from their own country. Those called to serve in their home country are: Area Seventy Elder Robert K. William from India, Hong Kong China New Territories Stake President Hok On Chan, Phnom Penh Cambodia East District President Veasna Neang, and former Kaohsiung Taiwan West Stake President Steve Shih Ning Yang.
"We are excited to have such a talented group of new mission leaders called to the Area and rejoice that many will be able to serve in their home countries," said Elder Homer of the Asia Area Presidency. "This is a memorable milestone in the growth of the Church in Asia."
Mission Presidents and their companions typically serve for three consecutive years. They supervise and train young missionaries, and will work with several hundred during their three years of service. The supervising couples oversee the physical, emotional and spiritual well-being of these missionaries, and also instruct them regarding how to effectively teach the gospel of Jesus Christ.
To learn more about the Church's missionary program, please click here.
Untuk membaca ini dalam bahasa Melayu, sila klik sini.