Educating our next generation goes beyond just teaching them in the classroom. The Church of Jesus Christ of Latter-day Saints (LDS) has a different way of training its future leaders at their young age. 
Close to 20 LDS young women from the Kuala Lumpur, Malaysia District gathered Aug. 31-Sept. 2, 2017 for their annual Girls' Camp. This year's theme was, "Turn to Him and Answers Will Come". The three day, two night girls camp, was held in Janda Baik, Selangor where they set up tents and enjoyed roughing it for a few days.
More than a dozen faithful Church leaders accompanied the girls and taught them camping skills and certified their completion, providing them with a certification program and special recognition awards for gardening, first aid, survival skills and more. The young women enjoyed making crafts, participating in a talent night and enjoyed a fireside while sharing testimonies. A special "Faith-Walk" river crossing using only a walking stick, gave the young women a valuable perspective of the need for the Savior, the Holy Ghost and support of family and friends to help them navigate life's journey across the slippery rocks, hidden dangers and treacherous waters of life.
Being immersed in nature for a few days allowed the young women time to reflect and ponder, giving them a feeling of gratitude and closeness to their Heavenly Father and Savior.  Learning new skills and making new friends was a highlight as they interacted regularly through worthwhile wholesome character developing activities like building a shelter or sourcing for water together. One of their leaders, Sister Tanya, emphasized the importance of not only staying physically strong through exercise and diet, but striving to remain spiritually strong to be worthy of the companionship of the Holy Ghost to help avoid the pitfalls and temptations of the world.
How do the young women feel about their Girls' Camp experience this year?  Here is a testimony of one young woman: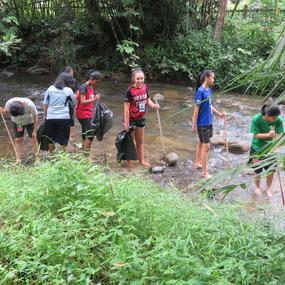 "I was able to relate the river crossing to life and living the gospel.  I was the last to cross the river and everyone was giving me a stick to help me cross the river.  It meant a lot to me knowing there were others around who cared and wanted me to succeed and be safe. When we use the stick, we have to think carefully where we want to place it.  Which is like making choices in life.  We also need to make sure the stick is stable and sure so our feet do not slip on the slippery stones. It also reminded me that Heavenly Father is always there to lift me up and help me get back on the path if I turn to Him. I know He cares about me and is there for me."
Another young woman testified that the reason why she was baptized in The Church of Jesus Christ of Latter-day Saints was because she attended the Young Women's camp last year.  "That camp was like a battery charger for me to give me positive energy.  It also gave me hope and a better outlook on life."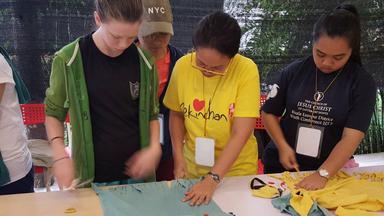 A third young woman said, "I learned many survival skills which I am excited about."  She enjoyed all the activities even though for two days it was cold and rainy.  She continued, by saying, she was inspired by the Camp and felt the Spirit and came away wiser and better.  She said, "I look forward to going to camp next year!" 

A 30- minute scripture study period was provided at the Camp each day to immerse themselves in the scriptures.  Many commented that they relished the time in the scriptures and that it was more time spent than what they usually do at home—-and that they liked it and wanted to do better.  The District President, President Tolman, had the opportunity of attending Girls' Camp this year and commented that "The youth in the Church, are like an Ensign unto the world." 

Through Girls' Camp, the young women have gained stronger faith in Jesus Christ.  They have learned through their camp experiences that if they turn to Him, the answers will come.  The answers may not be immediate, but if they remain steady and faithful, trusting in their Savior, the answers will eventually come.  He is there for them.

The Young Women's camp program of The Church of Jesus Christ of Latter-day Saints helps young women in the Church to develop personal testimonies of Jesus Christ, learn new and useful skills, builds confidence, encourages high moral standards, provides opportunities to foster meaningful friendships and develops personal righteousness for them to be a light and example for rising generations.