(Hanya untuk orang bukan Islam)
Organisasi Remaja Puteri Gereja Yesus Kristus Orang Suci Zaman Akhir akan menyambut ulang tahun keseratus lima puluh tahun pada tahun ini. Asalnya dikenali sebagai "First Young Ladies' Department of the Ladies' Cooperative Retrenchment Association," organisasi Remaja Puteri diorganisasikan pada 27 Mei 1870.
Presiden Bonnie H. Cordon, Sister Michelle Craig dan Sister Becky Craven dari presidensi utama Remaja Puterimenjemput remaja puteri di seluruh dunia untuk menyertai mereka dalam acara Bersua Muka pada 15 November 2020, untuk menyambut ulang tahun ke-150.
Remaja puteri di seluruh dunia menjadi sebahagian daripada organisasi Remaja Puteri Gereja dari bulan Januari tahun mereka berusia 12 hingga 18 tahun.
"Saya harap anda akan menyertai kami dalam menyambut Remaja Puteri tahun ke 150 tahun, semasa kita menambah nama kita ke dalam senarai panjang remaja puteri yang berkomitmen untuk mengikuti Juruselamat kami, Yesus Kristus," kata Presiden Cordon. "Sambutan Remaja Puteri tahun keseratus lima puluh ini akan menjadi peringatan indah tentang apa yang telah berlaku dan kegembiraan suci tentang apa yang akan terjadi."
"Organisasi Remaja Puteri menyambut tahun ke-150 bagi perkembangan para remaja puteri yang berusaha untuk memperbaiki diri, mengembangkan bakat mereka, melayan orang lain dan menguatkan kesaksian mereka dalam Yesus Kristus," kata Sister Craig, yang memberi beberapa cadangan untuk cabaran.
Cabaran ini dipanggil "My 150" [150 Saya]. Para pemimpin menggalakkan remaja puteri di seluruh dunia untuk memikirkan satu aktiviti yang mereka boleh lakukan yang berkaitan dengan nombor 150 untuk memperingati ulang tahun ini.
"Anda mungkin akan memilih untuk membaca 150 halaman tulisan suci atau indeks [sejarah keluarga] 150 nama," dia berkata. "Anda mungkin berkongsi 150 senyuman atau 150 teks atau pos sosial media yang menggalakkan kepada kawan-kawan yang memerlukan galakkan atau dorongan. Atau anda mungkin akan menyertai remaja lain dalam bahagian anda dan mengambil 150 nama ke bait suci untuk pembaptisan [secara wakil] apabila kami boleh kembali ke tempat-tempat kudus itu."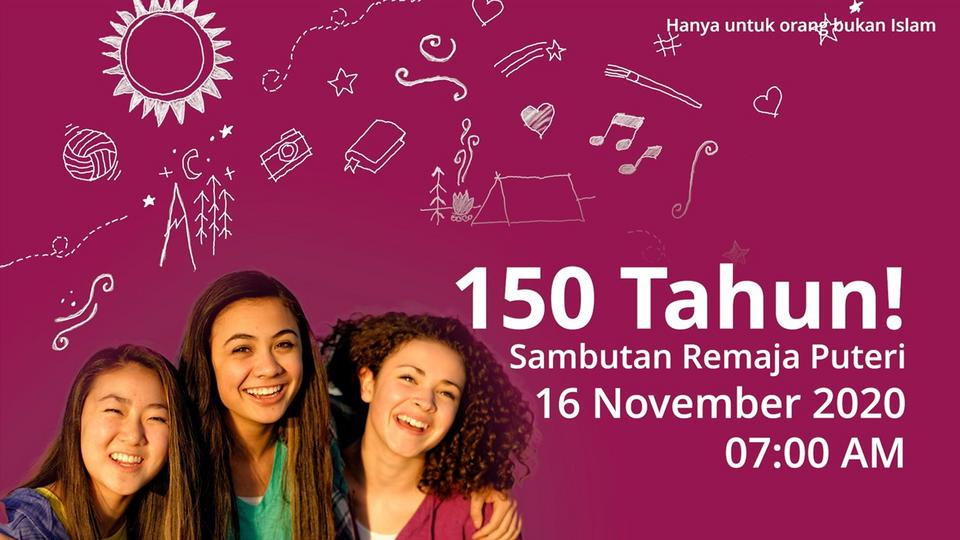 "Apabila kami melihat kembali 150 tahun yang lalu sejak program ini bermula, saya berfikir tentang para remaja puteri yang telah menjadi sebahagian daripada organisasi yang diilhamkan ini," kata Sister Craven. "Setiap orang unik dan setiap orang adalah bahagian yang berharga dalam sejarah kami dan warisan Remaja Puteri."
Dia juga berkata, "Sebagai sebahagian daripada persediaan kami, kami akan menjemput remaja puteri untuk berfikir tentang pemimpin mereka dan bagaimana pemimpin ini telah membuat perbezaan dalam hidup mereka. Sebagai remaja puteri lalu, sekarang, dan masa depan, kita memerlukan satu sama lain."
Remaja Puteri dijemput untuk menyertai perbualan tentang sambutan keseratus lima puluh tahun dengan menggunakan #strivetobe [#berusahamenjadi] di sosial media.
Semua remaja puteri, ibu bapa mereka, para pemimpin Remaja Puteri dan semua wanita yang pernah terlibat dalam program Gereja Remaja Puteri dijemput untuk mengambil bahagian. Para peserta juga digalakkan untuk menghantar soalan-soalan untuk acara ini ke Face2Face.ChurchofJesusChrist.org.
Acara Bersua Muka akan disiarkan dalam 16 bahasa dari Tabernacle bersejarah di Temple Square Salt Lake City, bermula pada 4:00 p.m. waktu standard gunung. Siaran langsung acara ini akan tersedia di ChurchofJesusChrist.org, sistem satelit Gereja, BYUtv dan saluran sosial media Gereja termasuk YouTube dan Facebook.