In an unprecedented evening, seven different faiths performed captivating musical numbers designed to infuse the soul with inspiring and uplifting harmonious messages.  Representing Christianity, the Church of Jesus Christ of Latter-day Saints'  (Mormons') local congregational choir portrayed Jesus' birth through sacred songs. Spiritual songs and musical numbers were also provided by Muslims, Hindus, Bahais, Buddhists, Orang Asli and Sikhs, promoting love, compassion, and service to all.  Hundreds attended the event at the Petaling Jaya Dewan Sivik Center on December 4th.
The guest of honor was from the Prime Minister's Department Malaysia, Tan Sri Datuk Seri Panglima Joseph Kurup. In his opening remarks of welcome and unity, he said that music makes people happy.  He also spoke of placing emphasis on instilling values in our children "So when the time comes, they will be able to stand for truth and justice."  His remarks were positive and uplifting and earned applause in several places.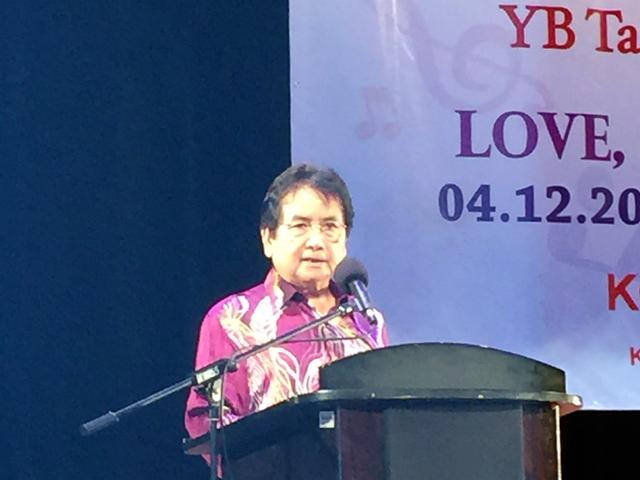 The opening dance by Astana Arts, titled "The Beginning," set the stage for unity among faiths, as the religious emblems for each of the seven faiths were carried by the dancers as they gracefully performed.
The evening's entertainment was unequalled in its diversity, harmony, and musical presentations. Musical instruments not found in an orchestra accompanied the Sikh group as they employed the traditional Taus, Rebab and Dilruba while singing a scriptural hymn.  Unusual stringed and percussion instruments were utilized to keep time and add melody to the words expressed by the Orang Asli group. Some numbers were solos, and others were chanted by entire groups.  All the musical numbers were well prepared and well delivered.
Printed lyrics to every song were in the souvenir program booklets, giving meaning and further understanding to each number.  The obviously talented Buddhist group offered songs in harmony, showcasing the power of music.  The large Hindu choir sat cross-legged on the stage and sang songs promoting peace, virtue, and good conduct among people.
The musical extravaganza was exquisite. The youngest performer, aged 9, sang a solo to begin one of the Bahai songs titled "God is One," and she was brilliant. The Muslim group was comprised of young boys dressed in bright red outfits, singing two songs of praise.  They captured the hearts of the audience.  Costumes were interesting and intriguing, from traditional colorful and ornate, to tastefully classic dress. 
It was an enchanting evening. The audience was left wanting to hear more from each group, as ten minutes passed so quickly for each.The First Annual Spiritual Musical Night was a success, as its objective was to reach hundreds in an offering of peace and unity among the people of Malaysia through songs from their different religions.  These musical messages were well received and the large audience was rewarded for attending.
The evening was planned by CSA, the Centre of Spiritual Advancement, an arm of Pure Life Society's Inter-Faith Spiritual Fellowship INSaF).  For six months, the organizing committee worked to obtain representative musical groups from each faith.