Untuk membaca ini dalam bahasa Melayu, sila klik sini.
(For Non-Muslim Use Only)
As an integral part of The Church of Jesus Christ of Latter-day Saints interfaith friendships with religious organizations around the world, the Malaysia Communication Council has over the years fostered interfaith relations locally as well. The Church in the Kuala Lumpur West Malaysia District hosted the 15th Swami Satyananda Memorial Lecture (SSML) 2022. The event's theme for this year was Youth, Peace and Crisis. It was held at the newly opened District Center of the Church in Petaling Jaya, Malaysia on July 16, 2022 from 9a.m. to 5p.m. It was attended by around 140 pax physically and 30 pax via Zoom broadcast.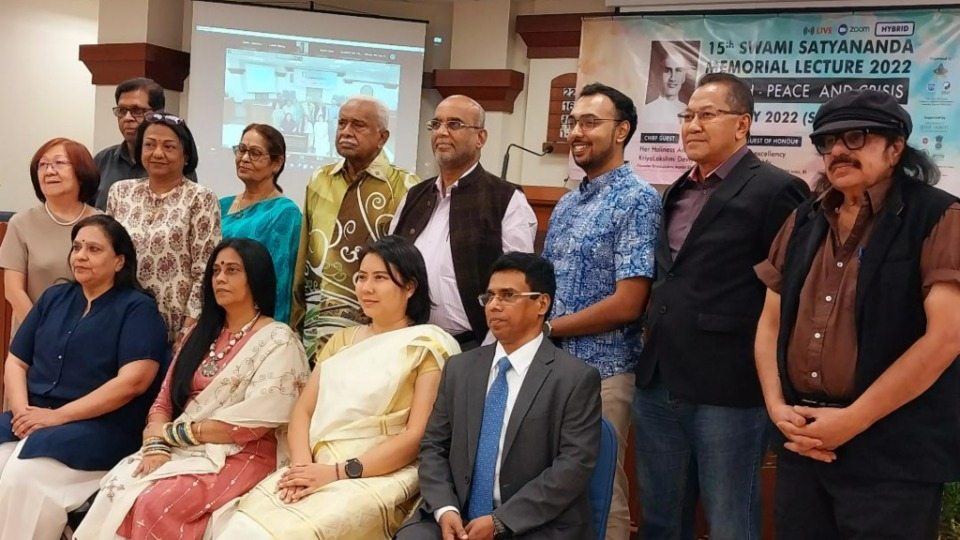 The event was launched by His Excellency Mr. B.N. Reddy, High Commissioner of India to Malaysia, and graced by Datin Paduka (Dr) Mother A. Mangalam (DSIS, KMN, PJK) of the Pure Life Society together with Her Holiness Annai Shree Kriyalakshmi Deviyar of the Kriyalakshmi Mandir Shree Sai Gurukul.
There were eight distinguished speakers who participated in this year's memorial lecture. The following are the speakers and the lectures they each presented:
1)    President Taitama Tolman, Singapore Mission President of The Church of Jesus Christ of Latter-day Saints – "Moral and Innovative Leadership in Youth"
2)    Master Genevieve Tan Shu Thung, President of the Sandhya Maarga Holistic Living Academy Malaysia – "A Holistic Approach to Build Strong Willpower in Youth"
3)    Soorya Krishnamoorthy, Founder of the Soorya India Festival and Soorya Movement in India – "Role of Youth in Preserving Art and Culture"
4)    Dr. J.M. Sampath, PhD – "Role of Youth in Sustaining Peace and Harmony"
5)    Tharma Pillai, Co-Founder and Advocacy Director of Undi18 Malaysia – "The Power of Youth Participation in Times of Crisis"
6)    Dr. Swagata Sinha Roy, Assistant Professor of Modern Languages at University Tungku Abdul Rahman Malaysia – "Building Youth Through Spirituality and Sustainability"
7)    Mr. K. Haridas, Deputy Chairman of Interfaith Spiritual Fellowship Malaysia – Illiteracy in Malaysia"  
8)    Dr. Amir Farid Bin Che Isahak, Chairman of Interfaith Spiritual Fellowship Malaysia – "Youth and Peace – Challenges and Opportunities"
Here are selected keynotes from each of these eminent speakers: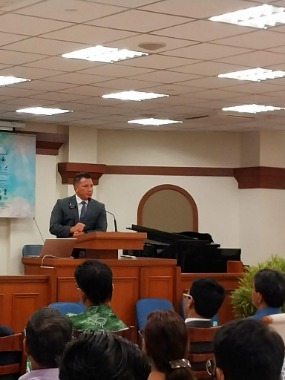 President Taitama Tolman
President Tolman extended an invitation to the youths to actively engage in the work of salvation and exaltation as taught in The Church of Jesus Christ of Latter-day Saints. He stated, "God has reserved many of His most noble spirits, perhaps even His finest for this time and age. Those noble spirits are the finest players and heroes. They are you, our youths. The question we wish to pose to each and every youth is, would you like to be a big part of the greatest challenge, the greatest cause, and the greatest work on earth today?"
In a statement made during his presentation, President Tolman shared seven attributes related to innovative leadership: integrity, role clarification, concern for sustainability, people orientation, ethical guidance, power sharing and fairness. 
Among all the leadership qualities, integrity shows the highest extent among the many attributes of moral and ethical leadership. Integrity is reckoned to prevail in youths. He continued in his lecture stating, "youths are our future leaders, and youth need to be sufficiently equipped to make tough ethical decisions, be responsible of their decisions towards others and understand the implications of their actions. 
Hence, integrity impacts the ethical leadership attributes among youth who are the role models for future generations, and allows them to grow in a positive environment that promotes personal growth, develop lifelong skills and increase experiential learning."
Master Genevieve Tan Shu Thung
"Although man sets many goals throughout his life, he who has a weak willpower would eventually let most of his goals fade silently into the background. Man's vision is easily distracted by his environment. A noble intention accompanied with persistence and action is a worthy goal while a thought dwelled upon occasionally without persistence and action is mere fanciful thinking," shared Master Tan on building strong willpower in youth.
Mr. Soorya Krishnamoorthy
"Our youth can act as a bridge between cultures, and serve as key agents in promoting peace, intercultural understanding, and positive social change, change that will yield greater economic and social well-being in the perspective of sustainable development for generations to come. Culture is a powerful driver for development. It is important to preserve our cultural heritage because it keeps our integrity as people. The importance of cultural heritage is the manifestation of wealth of knowledge and of skills that could be transmitted through youths from one generation to the next," remarked Mr Krishnamoorthy on how youth can actively participate in preserving art and culture.
Dr. J. M. Sampath, PhD
"Youths can be a positive force for the country's development when provided with proper knowledge and opportunities. In particular, young people should acquire education and skills to help address the challenges the world faces. When made to realize their power, youths can make a big difference in creating a better future where there will be peace and security for individuals to blossom and societies to grow," commented Dr. Sampath on how youths can sustain peace and security and build an emotionally, socially, economically and politically stable world.
Mr. Tharma Pillai
"Youths are uniquely placed to play a valuable and necessary role in citizen-led accountability initiatives, and must be put in the driving seat of accountability. Youths today have higher levels of education than the previous generation. They network with the community, are eager to question status quo, and they apply innovative approaches to campaign for worthy causes and raise awareness on significant issues at national or global levels," stated Mr Pillai on how youths have the leading edge to participate for a good cause in times of crisis.
Dr. Amir Farid bin Che Isahak
"Our youth should equip themselves with digital skills to fully take advantage of the immense opportunities in the digital universe. There has never been a better time for youths to be at the forefront of the economic drive that is charting the economic well-being of our nation Malaysia and helping to ensure peace and prosperity prevail. Youths hold the key to our future," expressed Dr. Amir Farid who spoke on challenges and opportunities for the youths.
Mr. K. Haridas
"Literacy alone does not solve all the problems facing the world today, but it does give an individual a better chance and opportunity. To read, write, speak, listen and reflect are all vital aspects of a literate individual. One is then able to communicate with a larger segment of the population, as well as appreciate the fundamental emotions and feelings that language communicates," observed Mr. Haridas whose message focused on illiteracy in Malaysia.
Dr. Swagata Sinha Roy
"It is only through spirituality that youths can feel a sense of purpose, deal with stress and learn to forgive. Spiritual well-being can give a strong sense of security as this leads to the search of something deeper, and perhaps something larger than the youth themselves. It involves seeing others with eyes of compassion, wanting to reach out and not focus solely on one's self. The act of offering services, and of contributing to good causes can lead the youths to be at peace with themselves and with their fellow beings," concluded Dr. Swagata.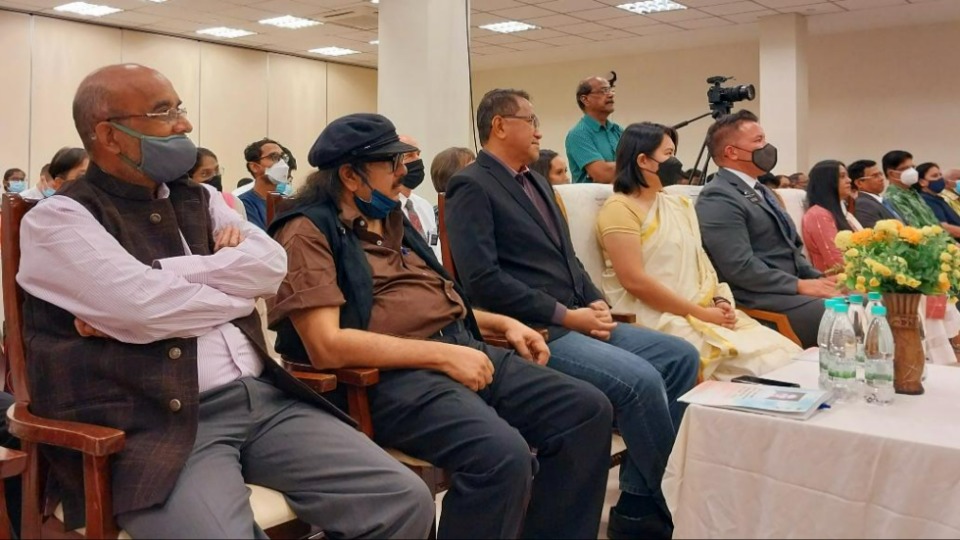 The memorial lecture welcomed many friends of the participating organizations and their support made the event a success. The organizing committee acknowledged the many individuals and groups for their generosity, service and valuable contribution.
The Malaysia Communication Council of The Church of Jesus Christ of Latter-day Saints sits on a working committee with The Pure Life Society of Malaysia, the Interfaith Spiritual Fellowship (INSaF), and the Center for Spiritual Advancement (CSA) for interfaith and charitable activities and events. Representing the Church in the working committee are Letty Sim as Deputy Chairman, and Sharon Wong under Publicity and Media. The Council extends its appreciation to the organizing committee for the opportunity to serve and for the perpetual friendship they share.