Untuk membaca ini dalam bahasa Melayu, sila klik sini.
(For Non-Muslim Use Only)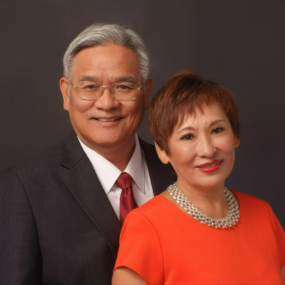 During President Leonard Woo's calling as the Singapore Mission President from July 2019 to June 2022, the members in Malaysia were spiritually enlightened and uplifted by his messages at district conferences and leadership training meetings. President Woo's messages to the saints and leaders in the region were consistently focused on our Savior Jesus Christ. 
In his talks and trainings, President Woo and his companion Sister Rita Woo shared their firm testimony of the Savior's redemptive role and power in the lives of all God's children. As they shared these feelings and thoughts, one could indeed sense the love they have in their hearts for the Savior and their devotion towards the gospel of Jesus Christ.
President Woo stated, "The Atonement of Jesus Christ works best for us when we know the Savior deeply and endure in faithful discipleship despite facing trials and fiery darts of the adversary. To know about Christ can come about simply by reading available literature on Christ or to listen to others speak about Him. To be tested in Christ means that one would continue to be faithful and stay on the covenant path despite the difficult challenges and trials he or she had experienced both inside and outside of the Church."
Complementing his words, Sister Woo shared the following about building a firm foundation and protecting our conversion. She said, "Helaman 5:12 in the Book of Mormon talks about building our foundation on the rock of our Redeemer. There is no other way or shorter route I know that can help us sustain our testimony in Jesus Christ and conversion to His teachings. Doing the small and simple things such as daily scripture study and prayer would indeed strengthen our foundation in Christ. It is literally holding on to the iron rod in Lehi's vision of the Tree of Life. These small and simple things are crucial in giving us the strength to sustain a continual change of heart in our journey as a disciple of Jesus Christ. It will be our rock to anchor us in times of storms. It is also the basis of joy promised to us in this mortal journey and into the eternities.
As the Woos completed their missionary service on June 30, they encouraged adult Latter-day Saints in Malaysia to be an example of the believers through words and deeds, and to uplift where they stand. By showing great love and appreciation for the gospel of Jesus Christ, members would be able to influence younger saints who need role models in their life. They recommended adult members to invite young members to their home to witness the Latter-day Saint life as eternal families.
To the future generations of the Church in Malaysia, President Woo stated, "Pay attention to things that invite the Spirit such as prayers, scripture reading and partaking of the sacrament every Sunday. Young people need to learn to feed themselves spiritually because they cannot lift others unless they are on higher ground. Younger members must also learn to find joy in their Church service and ministering so as to strengthen themselves spiritually."
The counsel he imparted to return missionaries was equally significant. He added, "Do not lose the habits that you have developed in the mission such as quality prayer, planning and goal setting skills, to love the weak and strangers, and the ability to discern the promptings of the Spirit. Accept callings, serve faithfully and proactively. Encourage other youths and young single adults to serve full time missions. After their mission, they too should be the salt to lift and inspire others in their respective branches."
Both the Woos eloquently shared their heartwarming testimony to elevate the Malaysian saints as they pressed on in the work of salvation and exaltation.
President Leonard Woo reflected, "My mission is a gift from God. It reflects His great love and tender mercy to bless me with this incredible experience. My mission also endowed me to witness God's love and power in shaping the lives of young missionaries. Christ is truly the light and life of the world. In Him, there is no darkness. The First Vision is real. Joseph Smith is truly the Prophet of the Restoration. The Book of Mormon is truly the most correct book on earth."
Sister Rita Woo shared hers, "This mission is the crowning fulfillment of a long ago promise in my patriarchal blessing that I will have great and glorious experiences in my life. Of all the callings I have had in church, nothing was as demanding and relentless as this has been. But nothing is also as rewarding and rich as this. The ties that we have forged with our missionaries is the nearest to a family tie and it is eternal, one which I will remember and treasure for a long time. It has been an amazing journey to feel Him, hear Him and be led by Him. I know that this is His church, that I am truly a daughter of God with divine potential and He is aware of every detail in my life. He loves me and most of all He lives, and He will come again."
They are both grateful that all their children and grandchildren have remained active and strong in the gospel of Jesus Christ and in the Church. And that their faith and testimonies have also grown, blessing their posterity with an unshakable testimony of what it means to be a disciple of Jesus Christ.
Saints in Malaysia extended their deepest gratitude and love to President Leonard Woo and Sister Rita Woo for their gracious service. They fulfilled their mission call honorably with utmost dedication and love for the saints, the Church in Malaysia and Singapore, and for the people of these nations.
Members expressed best wishes and prayers of great joy, health and longevity to them as the couple reunited with family and friends, and as they began another chapter in their life as exemplary disciples of Jesus Christ.