Untuk membaca ini dalam bahasa Melayu, sila klik sini.
(For Non-Muslim Use Only)
Prior to the April 2023 Annual General Conference of The Church of Jesus Christ of Latter-day Saints, a group of church members from various countries were selected to sing with the Tabernacle Choir at Temple Square in Salt Lake City, Utah as global participants. This was a pilot project organized by the Tabernacle Choir as an outreach initiative to include international members. The Choir considered the project as a new mission to have its influence felt throughout the world.
A total of 10 global participants from Malaysia, Brazil, Ghana, Mexico, Philippines and Taiwan were enlisted. During General Conference, the global participants sang in three of four sessions: on Saturday morning and for both Sunday sessions. Jonathan How from Kuala Lumpur, Malaysia, was one of the global participants. He said, "I had never thought of singing with the Tabernacle Choir. No words can describe how excited I was for this opportunity."
Jonathan had early beginnings in music, starting with singing in choir groups at church and spending lengthy amounts of time learning to read music and to sing despite his busy study schedule at university. As a self-taught singer and musician, Jonathan worked diligently to the point of being able to sight sing notes. He also took formal singing lessons to improve his technique.
"While months of earnest hard work in music training continued, I began to develop a spiritual aspect during these determined moments. It led to my commitment and love for my Saviour Jesus Christ. I am also humbly grateful to have had the blessing to use my musical skills and talent to serve, and to work with an awe-inspiring team," said Jonathan.
Singing with the world-famous Tabernacle Choir was a significant and serious matter. Along with the nine global participants, Jonathan had four primary rehearsals with the Choir under the direction of Music Director Mack Wilberg and Associate Music Director Ryan Murphy. Additional personal practice sessions were also required. In between rehearsals, the global participants had individual voice assessments and testing for vocal improvement.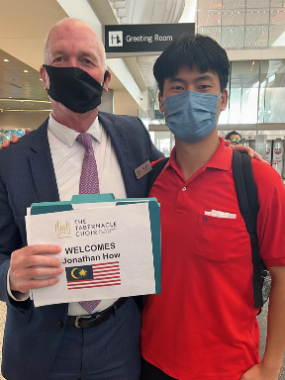 "Time was of the essence. I had to get to work despite jet lag -- the same for other participants too. We had to follow every instruction, advice and feedback. While the music directors were strict, they were also professional and encouraging. It was all a memorable experience, especially the one rehearsal with Ryan Murphy. Under his tutelage, we learned to listen and blend our vocals in unison," shared Jonathan about his rehearsal experience.
The global participants also had break-time opportunities whilst in Utah. They visited Deseret Industries, the Bishop's Storehouse, LDS Charities, the Provo Missionary Training Center, Provo City Center Temple, and the Bountiful Temple. During these visits, Jonathan was amazed to observe how service-oriented the Church is.
He expressed, "I am eternally grateful for the opportunity to sing with the Tabernacle Choir. Indeed, I look forward to singing with them again. I thank Mack Wilberg, Ryan Murphy, the Tabernacle Choir and the senior couple missionaries who worked hard to make this experience possible, not forgetting the new friendships fostered among the global participants. I am humbly grateful to Heavenly Father and His Son Jesus Christ for providing me this opportunity to serve, and to persevere in my quest to be elevated in gospel knowledge, to strengthen my testimony, and to express love for my Saviour Jesus Christ through singing and music." 
Presiding Bishop Gerard Caussé spoke to the global participants, "I hope when you return to your country you will testify of this experience and you will raise a new generation of singers everywhere all over the world."
Before joining with the Tabernacle Choir for the April 2023 Conference, Jonathan was set apart as a service missionary by Michael O. Leavitt, President of the Tabernacle Choir. He was interviewed by Area leaders in Hong Kong, and had two auditions with the Choir team before travelling to the United States. Jonathan is a returned missionary who served in the California Sacramento Mission, and is now the Elders Quorum President in the Kuala Lumpur branch of the Church in West Malaysia.