"Build Zion in your heart and home.  As you strive to do so, you will receive spiritual help to overcome all kinds of challenges in life and obtain blessings that you can't imagine" said Elder Quentin L. Cook.
In ten days, May 19-29, 2017, Elder Quentin L. Cook of the Quorum of the Twelve Apostles, accompanied Elder Ulisses Soares of the Presidency of the Seventy and Bishop W. Christopher Waddell, 2nd counsellor of the Presiding Bishopric visited seven countries in Asia, namely, Hong Kong, India, Indonesia, Mongolia, Singapore, Taiwan and Thailand.  They were warmly welcomed by the members of The Church of Jesus Christ of Latter-Day Saints.  Many travelled long distances and arrived hours ahead to listen to these representatives of the Lord.  Every individual and congregation were touched by their love and kindness, and their inspirational messages.
Four principles were taught by the leaders to help members strengthen themselves and their families:
Build faith in Christ and His Atonement.
Honour the Sabbath Day.
Use family councils; and
Live the law of fast.
Living in a challenging time where religious principles are no longer regarded and moral values are in decline, the leaders gave messages addressing to the needs of the members of The Church of Jesus Christ of Latter-Day Saints in each country they visited.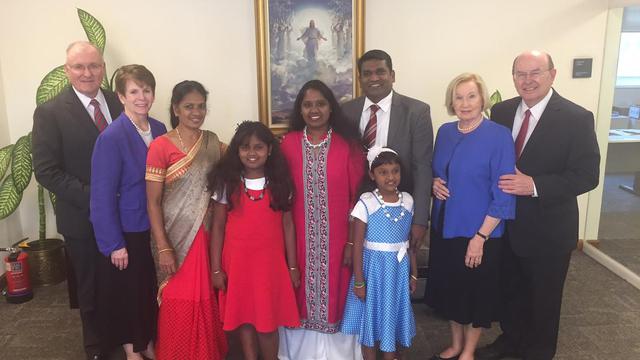 Elder Soares encouraged the members of The Church of Jesus Christ of Latter-Day Saints in Indonesia to keep the Sabbath day holy-to use this day to engage in activities that will draw them closer to the Lord.  He urged the members in Singapore to remain steadfast by following the prophets, renewing covenants made and serving with dedication.  He said, "Secular things may appear attractive but they will not get us back to our Heavenly Father-only the gospel can."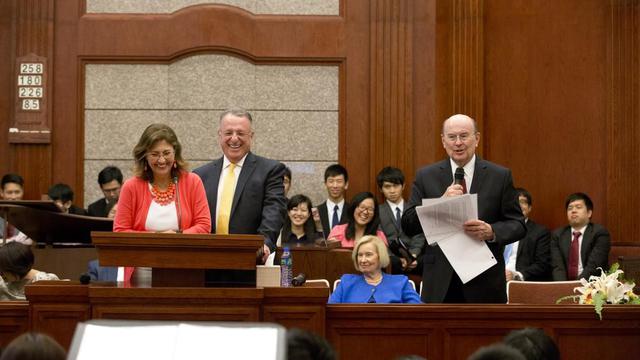 Bishop Wanddell urged the church members in Taiwan to walk in the Lord's way and not men's way.  He said: "If we establish our family in the Lord's way [it] will protect our family from the disruptions of the world."
In India, Elder Cook encouraged the members to begin their four-generation genealogy work as to receive their blessings of the temple.  In Thailand, he told the members that a temple will be built there based on the faithfulness of the members.  For the members in Hong Kong and Taiwan where they already have a temple, church members were encouraged to go to the temple regularly and communicate with God without interruption and where God will teach them and show them His will.
His apostolic testimony and blessings upon each congregation brought strength, peace and hope to those in attendance and manifested the Saviour's love to all.