Father's Day is celebrated every year worldwide to recognize the contribution of the fathers or father figures in the lives of their children.  Many people make special efforts to show their love and appreciation in different ways on this special day to their fathers, and members of The Church of Jesus Christ of Latter-day Saints are no exception. To them, the father's role in a family is special and divine.
"The Family: A Proclamation to the World" states:
"Parents have a sacred duty to rear their children in love and righteousness, to provide for their physical and spiritual needs, and to teach them to love and serve one another, observe the commandments of God, and be law-abiding citizens wherever they live... By divine design, fathers are to preside over their families in love and righteousness and are responsible to provide the necessities of life and protection for their families..."
As fathers love, teach and nurture their children, their influence go beyond measure. They are forever fathers who are irreplaceable. Members of the Church in Malaysia took advantage of this Father's Day to show their love and appreciation for their fathers.  
Anita Augustine, a young single adult from the Church said, "My father is a great adviser, provider and protector, but I cherish him more as a friend - a friend who understands my feelings and worries, a friend with practical advice and a friend who helps me spiritually."  
"He is always present in every aspect of my life and is my supporter," Augustine continued. "He was by my side on the first day of my school, first day of my college, and even on the first day of my work."
Jason Tan, a 17-year-old young man, said, "The quote, "Action speaks louder than words" perfectly describes my father."
"My father is actually a man of few words but he's the first one who always take actions whenever anything happens in the family," Tan continued. "I know that he is just an ordinary man like other fathers but I still look up to him. Despite that, I know that he will always be there ready to take upon all the responsibilities as a father to shelter over the family. I know that he might be grumpy sometimes but I'm aware that it is actually his way to show affection to the family. He might not be the best man on earth but has broad shoulders to carry his family. He definitely has earned my respect and love and will always be my one and only beloved father."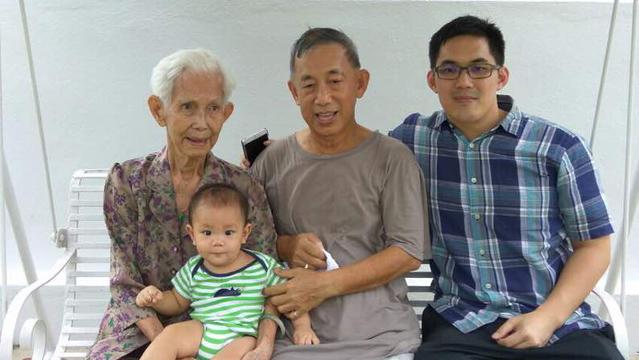 Another Church member, Koay Yee Yang, enjoyed the excitement of being a young father, "It is great being a father!"
"Watching a new born developing their faculties is a joy to behold, at the same time, it reminds me of how my parents nurtured me through the years," he said. "I am grateful for my dad in providing for the family.  In their semi-retirement, he looks after Luke (the baby) when he is free too. The family bond binds us 3 generations together. It would be awesome if this continues eternally."  
Family relationships have always been crucial to the member of The Church of Jesus Christ of Latter-day Saints. To learn more, please click here.